Protectorhml™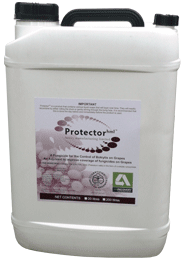 General information
Food grade ingredients
Protectorhml is a potassium based liquid soap containing specific complexes. All ingredients involved in the manufacture of Protectorhml are food or food grade. Protectorhml has a long history of excellent plant safety. Unlike other potassium soaps it has no insecticidal ability but it has profound fungicidal, fungistatic and adjuvant properties.
Completely saponified
Protectorhml is completely saponified and does not contain free vegetable oils. Four major issues have been eliminated because of this: an off flavour in juices close to harvest, the inherent risk of any oil (mineral, vegetable or fish) when combined with sulphur causing phytoxicity, the effects of any oil on plant growth and free oil falling out of solution in sprayers because no emulsifier is present.
Registration and uses
Protectorhml is registered by the Ministry for Primary Industries, Agricultural Chemicals Veterinary Medicines Group (ACVMG) as a fungicide for the control of botrytis on grapes. Its registered number is P7149. Its mode of action is contact.
There is extensive research on its use as a fungicide; however it is mainly used in the grape industry as an adjuvant with sulphur for the control of powdery mildew. It works by spreading sulphur over an area five times larger than what it would normally achieve in solution (slides 6 and 7 of the power point presentation attached) and gathering spores together (slide 8) compared with another potassium soap with free vegetable oil (slide 9). Protectorhml also has its own unclaimed efficacy against powdery mildew.
There are many independent trials in grape comparing the performance of a program of Protectorhml and sulphur to a conventional chemical program including DMIs and more modern compounds and it has been found to produce robust equivalent efficacy against powdery mildew. Refer to NZ Wine or Organic Focus Vineyard.
It is registered in California as an adjuvant under the name of Saponel. There it has OMRI status for use in organics, as it has here with BioGro - Licence Number 5097.
It is also registered in Australia as an adjuvant under the name of HML Point Five. We are currently seeking organic certification.
Please scroll down on the right hand side of this document for more information.
New Zealand Registration and safety information
Research and trials
Other technical publications/papers to assist